I've been getting a lot of questions lately about my thoughts on the new cookbook by Susie Fishbein, Kosher By Design Cooking Coach, and I am excited to finally share my thoughts on this fabulous cookbook with you. I should start by mentioning that if you aren't a kosher cook, don't stop reading. Susie's ideas are amazing, and you don't have to keep kosher to appreciate them!
At a first glance:
As is the case with all of Susie's previous books, this is a visually beautiful book. I opened it up and marveled at the absolute wealth of information. The book promises to be more than just a list of recipes, and it certainly delivered. Each chapter starts with a "game plan" section which includes a whole ton of information on things that will be useful to the chapter. The book starts with information such as how to hold a knife, the correct way to dice an onion, and useful things to always keep in your pantry. As you get to each section, the game plan gives you information on how to plate an appetizer nicely, how to score a duck breast to sear it, information on cleaning and storing lettuce, and a pictorial guide to pretty much every cut of meat in the world. You would think that a more experienced cook wouldn't have much to learn from this, but the information is comprehensive enough that there's something for everyone to learn.
Some Features I Liked:
Firstly, I love the "playbook" section. The idea is simple. Rather than serve leftovers of the same dish, use a component in a creative way to create a new dish. For example, if you have leftover glaze from making Miso Glazed Eggplant, use it as a marinade for fish. Or, make extra dipping sauce when you cook up the amazing looking Grean Bean and Asparagus Fries, and dip chicken fingers into it. Cook once, eat twice…it's something every cook can appreciate!
Next, I love Susie's creativity. Those who own some of her previous cookbooks know what I am talking about. This isn't "just another cookbook," rather, it's a book full of fabulous ideas, interesting flavor combinations, and lots of new ways to spice up your standard fare.
As mentioned above, I love the section before each chapter with full color illustrations of all the practical advice you could want when cooking. Think of it as a master cooking instructor at your side while you prepare Hot and Crispy Chicken with Mango Slaw. Less daunting with all that info there for you, is what I'm saying!
Some Recipes I Can't Wait To Try:
Whew. This list is seriously long!
Orange Teriyaki Steak Salad: Seriously making this soon. Maybe tonight. I love asian flavors, especially in salad, and this one looks fabulous!
Cornish Hen in Port and Chocolate Sauce: How fabulous does that sound? Cornish hens are so elegant, and the sauce sounds divine. Totally making this next time I need to impress people.
Crustless Meat and Onion Pie: I think this recipe is more up my alley than anything else in the book. It's delicious and comfort-food(ish) but it's pretty and a beautiful presentation. And it sounds just plain dee-lish-us!
Roasted Eggplant and Tomato Bisque: I actually want to make pretty much every soup in this book (have I mentioned how I love soup??) but this one looks so hearty and comforting. Imagine having that when you come home from a long day of work on a cold winter night?
Cajun Quinoa: This was going to be the recipe I wound up posting. But then I made soup, so I have this on my to-make-very-soon list. Aside from how delicious it sounds, it's molded into a bundt pan for a gorgeous presentation! Well, hello favorite type of cake turned healthy side dish!
And lastly…chocolate. peanut. butter. molten. cakes. Excuse me while I wipe this drool off my keyboard.
Who This Cookbook is For:
This is a great all-around cookbook for both kosher and non-kosher cooks. Anyone who enjoys cooking, enjoys new flavors, and enjoys getting creative in the kitchen would really enjoy the book.
Who This Cookbook Isn't For:
Anyone who has a pretty limited palate, or is cooking for people with limited palates (read: kids) will find that there are a lot of unusual ingredients, which might stop you from making some of the recipes. I'm not saying you should write the book off completely, but it's something to take into account.
Another bunch of people who might not find this book quite as useful are those with special dietary needs. For example, while some of the recipes happen to be gluten-free, there are lots of recipes that do contain glutinous ingredients. I found, when looking for a recipe to try out, that many of them have sugar, something I try to stay clear of when dieting.
What I Didn't Like About This Cookbook:
It's a case of both good and bad- the innovative recipes and unusual ingredients mean that there are recipes that are a little too far out of my comfort zone. Also, some of the recipes require ingredients may be hard to get, or at very least, not something you have on hand.
This is more of a personal thing, because I am trying hard to diet now, but a lot of the recipes use ingredients that aren't very healthy. A lot of recipes have thus been bookmarked for holidays and special occasions. Again, it's a personal thing, and this isn't sold as a diet cookbook, so there wasn't much of an expectation of super healthy recipes here.
Conclusion:
Any cook who enjoys cooking, wants to learn more about both technique and flavors, and is looking for creative new recipes will enjoy this book.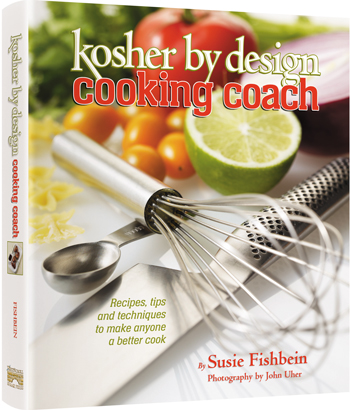 Giveaway is over!
And now, the moment you've all been waiting for: it's Giveaway Time!
To enter the giveaway for Kosher By Design Cooking Coach
Mandatory Entry: Leave a comment on this post telling me new flavor, ingredient or recipe you have recently discovered.
For Additional Entries:
Please note: Each entry requires its own comment! Multiple entries in one comment will only be counted once!
Follow @OvertimeCook on twitter and tweet about the giveaway. Leave a comment telling me that you did this.
Like Tales of an Overtime Cook on Facebook and post about this giveaway. Leave a comment telling me that you did this.
Follow @OvertimeCook on Pinterest and pin an image from this post. Leave a comment telling me that you did this.
Giveaway Details:
Giveaway ends at 11:59 PM on Thursday, November 29th. A valid email address or twitter profile must be provided.
Giveaway is open to residents of the US.
Giveaway is sponsored by Artscroll
Disclaimer: Artscroll hosted me at a launch party for this book, provided me with a review copy, and is sponsoring the giveaway. My opinions, as well as my complete awe at meeting the author are completely my own. This post contains affiliate links, which means if you are going to buy it, consider buying it through me and giving me a few pennies. 😉
————————————————-
And now, who wants a recipe?
Let's talk about Yemenite Beef Soup. It's something I frequently ate at a neighborhood restaurant when growing up, so the second I saw it in this book, I knew I would be making a batch. This didn't disappoint the childhood memories. It was even better, more delicious and richer than the soup I remember. Plus, it's totally a meal in one pot, which is always a plus for me. Make this.
Yemenite Beef Soup
Adapted slightly from Kosher By Design Cooking Coach
Ingredients:
3 Tablespoons canola oil
1 1/2 – 2 pounds beef marrow bones
1 1/2 pounds beef stew meat cubes
1 onion, peeled and diced
6 cloves garlic, peeled and sliced thinly
2 teaspoons hawaij spice mixture (see here for more information)
1/4 cup tomato paste
3 carrots, peeled and cut in rounds
6 cups chicken or vegetable stock
2-3 russet potatoes, peeled and cut in large chunks
Instructions:
Heat the oil in a large soup pot over medium heat. Add the marrow bones and stir to brown them. Add the beef cubes, stir, cover and cook for about 10 minutes, until the meat and bones are somewhat browned.
Uncover the pot and add the diced onions, garlic, hawaij and tomato paste. Stir to distribute evenly and cook for about 5 minutes to deepen the tomato flavor. Add the carrots and stock.
Cover the pot and simmer on a low flame for one hour.
Add the potatoes, cover the soup again and cook for an additional hour.
Discard the bones and serve hot.
Enjoy!
Hope y'all try this soup- it's too delicious not to! Good luck with the giveaway! Oh, and happy Thanksgiving! -Miriam
PS: I totally forgot to announce the winner of my last giveaway!
The lucky winner was Shaindy, who won for following me on twitter! An awesome cookbook is on the way to your house Shaindy.
;