It's hard to even describe how much of my heart and soul I've poured into my latest cookbook: More Real Life Kosher Cooking. Let's start at the beginning, shall we?
Note: This post is pretty long. If you want to skip the chitchat you can click here for instructions on how to pre-order the book and get a signed copy and exclusive savings!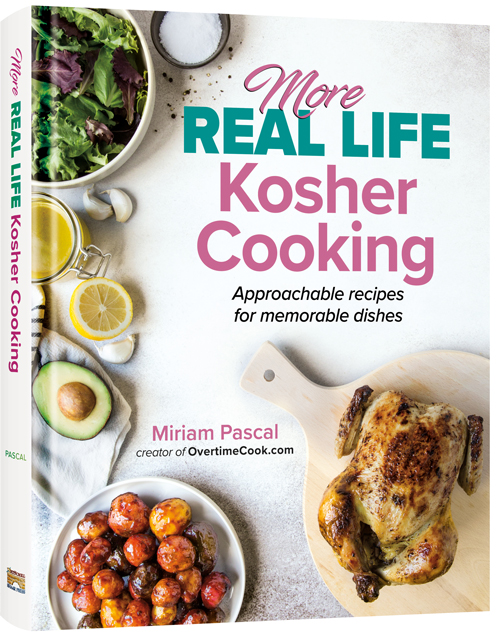 My third baby: More Real Life Kosher Cooking. coming soon! Published by ArtScroll/Mesorah Publications
Here's the thing about me and writing cookbooks: each one is such a crazy amount of work, involves such an extraordinary amount of stress, it's sometimes hard, while I'm working on it, to remember why I'm doing it. Here's where it gets interesting though. As soon as the book comes out, and I start to get feedback from readers all over the world, I experience this high that makes me say….I gotta write another one! I know it's a little crazy, but that's exactly how I felt when my second cookbook, Real Life Kosher Cooking was released. All of the blood, sweat and tears, every sleepless night and stress-filled day instantly melted from my memory as I experienced the utter high that is people loving and using my cookbooks. The response was overwhelming. Within just a few days, every single recipe in the book had appeared in my inbox in a picture from a different reader.
Healthy Lemon Cheese Pancakes – Chapter 1: Breakfast and Bread
Clearly, it was all. worth. it. And so, soon after the release of the book, I started to work on my next one. And that's how More Real Life Kosher Cooking came to be.
It's been two very long years. Months and months of endless recipe testing and retesting. Weeks of styling and photographing delicious dishes. Weeks and weeks and late night after late night of writing, editing, and proofreading, and it's all come down to this. In just a few short weeks, More Real Life Kosher Cooking will finally appear on store shelves all over the world. Scroll through this post to get a sample photo from each of the ten chapters, then keep reading for
Wontons in Garlic Sauce – Chapter 2: Appetizers and Snacks (Probably my family's favorite recipe in the book!(
What is the theme of More Real Life Kosher Cooking
As you may have guessed from the title, this book is a follow up to my previous cookbook, Real Life Kosher Cooking. It has the same familiar layout, same division of chapters, and the same features you've come to know and love – such as plan ahead details for each recipe and helpful variations.
Steak and Pepper Salad with Lemon Dill Dressing – Chapter 3: Salads and Spreads
When will More Real Life Kosher Cooking be released?
More Real Life Kosher Cooking will be on store shelves – and ship from ArtScroll – right at the beginning of december 2019!
Zucchini Beef and Barley Stew – Chapter 4: Soups and Stews (The ultimate crowd pleaser!)
How many recipes are there in More Real Life Kosher Cooking? Are they new or previously published?
There are over 150 recipes in More Real Life Kosher Cooking, spanning all topics from brunch recipes to weeknight dinners, to special occasion desserts and yom tov roasts, even cocktails and snacks! I'm really excited about the variety in this book. Most of the recipes (probably 80-90%) are brand new, never seen before. There are a handful of fan favorites from my blog and magazine column, and then there are a number of recipes that are new and improved versions of previously published recipes. Some are minor tweaks, where you'll instantly recognize the recipe, but others have been transformed to the point where you likely won't even realize it's an adaptation of a recipe you've seen before!
Spinach Chicken Burger – Chapter 5: Meat and Poultry (One of my personal favorite healthy dinners!)
Are the recipes in More Real Life Kosher Cooking healthy?
My goal with all of my cookbooks is to strike a good balance. So you'll find lots of healthy or healthy-ish recipes for weekday meals, but there are a number of more indulgent recipes, for special occasions. There's a small handful of recipes in the book that are deep fried, but the good news is, I've got an air fryer adaptation for many of them! And of course, (as you've come to expect from me) I rarely use margarine. I just double checked the book, and there's only ONE recipe in the entire book that calls for it!
Caramelized Onion Manicotti – Chapter 6: Dairy and Meatless Mains
Can you come to my community for a demo or book signing?
Absolutely! I have a limited number of dates available for travel, so if you would like to arrange a demo or event in your community, please send me an email to overtime cook at gmail.

Overnight Onions – Chapter 7: Vegetables and Sides (My mother's specialty!)
Want to get a SIGNED COPY of my new cookbook?
How To Preorder a Signed Copy:
To get a signed copy, pre-order More Real Life Kosher Cooking from ArtScroll – the kind folks at ArtScroll were kind enough to work out a special offer for my readers, where
You get 20% off list price of my book!
You get free shipping (in the USA)
You'll get your copy SIGNED by me!
If you want it signed to a specific person, please write the name in the shipping instructions field and I will do my best to personalize it.
Note that this is generally the fastest way to get a pre-order, as Amazon generally takes a few weeks to ship out the books.
To get this offer: simply place More Real Life Kosher Cooking into your cart and enter promo code OTC at checkout and that will tell them to pull your copy aside and have me sign it.
If you prefer, click here to preorder your copy from Amazon – please note this will NOT be signed. Note that amazon has a pre-order price guarantee, which means if the price drops before More Real Life Kosher Cooking comes out, you'll automatically get the lower price.
If you prefer, you can also wait and pick up a copy at your local bookstore – they'll be in stock right at the beginning of december. (See Q&A above for more info)!
Stay tuned for sample recipes, giveaways, upcoming events and more!

Cookies and Cream Krembos – Chapter 8: Desserts and Drinks (You won't believe how easy these are!)
Thanks for taking the time to read! I know you'll love the new book, and I can't wait for you to see it!! – Miriam
Strawberry Lemonade Bundt Cake – Chapter 9: Baked Goods and Pastries
Disclosure: OvertimeCook.com is a participant in the Amazon Services LLC Associates Program, an affiliate advertising program designed to provide a means for sites to earn advertising fees by advertising and linking to amazon.com.
Homemade Everything Bagel Spice Mix – Chapter 10: Sauces and Staples