Meat Stuffed Garlic Bread are the perfect, easy and delicious appetizer for holidays, game days, or any days!
Do you receive the Overtime Cook newsletter? It's full of recipes, kitchen tips and more! Click here to sign up.
It's been almost two months since my new cookbook, More Real Life Kosher Cooking came out, and I am honored, humbled and just plain delighted at the incredible feedback I've been getting on it! The book went into a reprint after just a few weeks, but more importantly, the feedback and photos pouring in from all over the world (yes! My publisher has international distributors!) has made all of the blood, sweat and tears that went into this book so worth it!
Before the book came out, I shared this sample recipe from my cookbook: Meat Stuffed Garlic Bread! I did a step-by-step demo of it on my Instagram stories, and what can I say? The recipe blew up! Photos began to pour in. Everyone was making these delicious and fun appetizers! And I could. not. be. happier! That's the goal, every time I write a recipe: getting you in the kitchen to start making it!
The recipe has lived alone on my Instagram page for a while now, but it's time to finally give it a permanent home here on  my blog, in a nice printable form! If you missed that post, or if you didn't get a chance yet to try these Meat Stuffed Garlic Bread appetizers, put it on the top of your to-do list. Not only are they absolutely bursting with flavor, but they are super easy to make (thank you pre-made pizza dough!) and they freeze so, so well! Pro tip: make  a double batch and freeze them for next time!
If you already own my cookbook, I'd love it if you wrote a review on Amazon! It helps prospective buyers know that home cooks like yourself are using and loving my cookbook. It's the greatest way to show appreciation for an author you like, at no cost to you!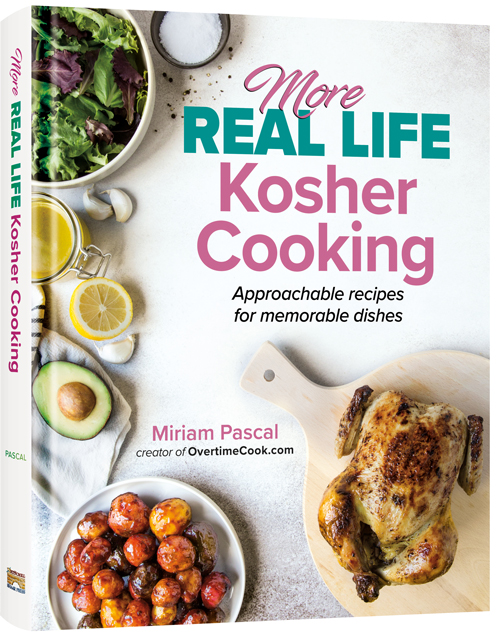 If you haven't gotten More Real Life Kosher Cooking yet, here are some of the popular recipes that might entice you… 😉 Mac and Cheese Waffles, Cookie Crunch Confetti Cookies, Grilled Burger Wraps, Cucumber Apple and Radish Salad, Soft Pretzels, Spice Rubbed Chicken Thighs, Herb Roasted Green Beans, Roasted Cauliflower Poppers, Butterscotch Swirl Bundt Cake, Snap Pea Corn and Cabbage Salad, and so much more. Click here to buy your copy on amazon. If you already have More Real Life Kosher Cooking, I would love to hear which recipes you've tried and loved in the comments below! 
Are you following @overtimecook on Instagram yet?
Meat Stuffed Garlic Bread
Author:
Miriam Pascal, OvertimeCook.com
Ingredients
GARLIC PESTO
1 cup garlic cloves
1⁄4 cup fresh parsley
1⁄2 cup olive oil
11⁄2 teaspoons kosher salt
MEAT FILLING
1 Tablespoon oil
1 pound ground beef OR veal
ASSEMBLY
24 mini (2-3 inch) pizza dough rounds
1 egg
Instructions
Preheat oven to 400°F. Line a baking sheet with parchment paper; set aside.
Prepare the garlic pesto: Place all pesto ingredients into a blender jar. Blend until mixture is completely smooth. You can also do this using an immersion blender and placing ingredients into a tall container. Set aside.
Prepare the meat filling: Heat oil in a large frying pan over high heat. Add meat; cook, stirring to break up the lumps, for a few minutes, until meat starts to brown. Add about 1⁄2 cup of garlic pesto; stir well to combine.
Assemble the garlic bread: In a small bowl, whisk together about 1⁄4 cup garlic pesto and egg. Set aside for topping.
Brush a layer of garlic pesto over 1 pizza dough round. Top with about
tablespoon meat mixture, then fold dough around filling. Stretch the dough as you work to make sure it will enclose the filling. Place filled round, seam-side down, on prepared baking sheet. Repeat with remaining dough and filling.
Brush reserved pesto and egg mixture generously over the top of each filled round. Bake for 20 minutes, or until golden brown.
Plan Ahead:
Meat-stuffed garlic bread can be prepared ahead and frozen until ready to serve. Rewarm, uncovered, until heated through.
Q: Can I use homemade pizza dough instead of the premade rounds?
A: Absolutely! You can make pizza dough using your favorite recipe (there's a fantastic one in my second cookbook, Real Life Kosher Cooking. Divide the dough into small balls and make an indentation. Fill it with meat, then seal will and proceed with the recipe.
More Appetizers You Will Love:
Like This Recipe? You will absolutely LOVE my cookbooks!
They also make a great gift! 
Click here to purchase Something Sweet.
Click here to purchase Real Life Kosher Cooking
Click here to purchase More Real Life Kosher Cooking
Never miss a new recipe! Follow me for all the updates on: 
Facebook|  Instagram | Twitter | Pinterest
Thanks for stopping by! Enjoy this recipe! -Miriam
Disclosure: OvertimeCook.com is a participant in the Amazon Services LLC Associates Program, an affiliate advertising program designed to provide a means for sites to earn advertising fees by advertising and linking to amazon.com.