Crispy on the outside, chewy on the inside, these Baked Red Velvet Donuts are a fantastic treat!
Do you receive the Overtime Cook newsletter? Full of recipes, kitchen tips and deals and more!
Click here to signup.
I know Chanukah is almost over, but there's still time for one more donut recipe, right?! Especially because this particular donut recipe is baked, not fried, which will be helpful if any of you are feeling a serious fried overload at the moment.
Let me tell you the story of these donuts…the donuts that almost never happened.
See, these were supposed to be in my cookbook. I created the recipe and made a batch, but they were only…okay. Obviously I needed to tweak them, but then I realized that the space in the chapter these would go in was really used up. I debated cutting something else, but those recipes were awesome, and these needed work. So I made the unfortunate decision to scrap this recipe from the cookbook and move on.
When I say unfortunate, I kinda mean fortunate. Because as chanukah was approaching and I thought about making a baked donut recipe, and remembered the sad tale of the Baked Red Velvet Donuts that weren't. So I dug that recipe up, tweaked it, and came up with these. Perfection, my friends. Perfection. It's the only way I can describe these! They're crispy on the outside, soft on the inside, and wondrously delicious. I say no crying over missed donuts, so let's celebrate them here, right now. You've still got time to make these donuts this year – and keep making them year round. After all…they're baked, not fried!
Have a question about one of my recipes?
The best place to get answers is the Overtime Cook Recipes Facebook Group!
Baked Red Velvet Donuts
Author:
Miriam Pascal, OvertimeCook.com
Ingredients
½ cup oil
1 egg
1½ teaspoons red food coloring (liquid)
½ cup buttermilk or non-dairy sub (*see below)
½ teaspoon vanilla
⅔ cup sugar
½ teaspoon baking soda
1¼ cups flour
4 tsp cocoa powder
pinch salt
Instructions
Preheat oven to 425. Grease a full sized or mini donut pan well and set aside.
In a medium bowl, whisk together the first five ingredients (all liquid) until combined.
Add remaining ingredients and stir until smooth.
Place mixture into a piping bag or a plastic bag with a hole cut out of the corner and pipe the batter into prepared donut holes, filling each cavity about ⅔rds full.
Bake at 425 for 8 minutes for a large donut pan, or 5 minutes for a small one.
Set aside to cool completely before glazing.
Once cooled, dip into cream cheese glaze (recipe follows) and decorate with colored sprinkles or sugar.
*To make a non-dairy buttermilk substitute:
Place 1 teaspoon of lemon juice in a 1/2 cup measuring cup. Fill to the top with soy milk, then let sit for a couple of minutes until it curdles. Use in place of buttermilk.
Note: this method works with dairy milk as well, if you want to make it dairy but don't have buttermilk on hand.
Don't forget the cream cheese glaze!

Baked Red Velvet Donuts
Author:
Miriam Pascal, OvertimeCook.com
Ingredients
2 ounces (1/4 package) cream cheese or tofutti cream cheese
1¼ cups powdered sugar
½ teaspoon vanilla extract
1 Tablespoon milk or non-dairy milk such as soy
Optional
Sprinkles or colored sugar, for decorating.
Instructions
Combine all ingredients in a small bowl. Whisk until smooth.
Top donuts with glaze, then decorate with sprinkles.
 Tools Needed for This Recipe 
If You Liked This Recipe, You'll Also Love:
Baked Peanut Butter or Nutella Donuts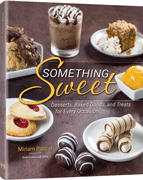 Like This Recipe? You will absolutely LOVE my cookbook!
It also makes a great gift! Click here to purchase Something Sweet.
——-
Never miss a new recipe! Follow me for all the updates on: 
Facebook|  Instagram | Twitter | Pinterest
——-
Thanks for visiting! I've got some more real food coming your way, so come back soon! -Miriam
Disclosure: This post contains affiliate links, which means that a small percentage of every purchase made through that link goes to help support this blog.